Ramone was my first rescue from our local super high kill county facility. I had gone in there looking for a cat that a friend of mine thought would be a good playmate for my former feral Tabby who was becoming very depressed from being alone so much while I worked.
Things did not "click" for us so I started looking around for others that might be what I wanted. I started out and just happened to glance down at a cage I thought to be empty and here was a little white boot sticking out.
I looked in and here was a little cat that had the saddest face I had ever seen. I reached down to touch his paw and he, like his older "sister", Robyn, that I adopted later from this same place, had been mutilated (declawed).
I opened the cage and against the rules, took him up from to find out the story on him and why the tag said he had his claws. Instead of chewing me out for what I had done, the officers told me Ramone's story.
It seems his previous owners had not only mutilated him, they had taught him to rough-house play and had cut off part of his tail. Like most cats that are mutilated, he was prone to biting. They said he was uncontrollable and had signed him over to be euthenized. He was just a kitten for crying out loud! Then they had the brass to ask about adoipting a dog! The officers promptly showed them the door.
All during this time Ramone was very quiet. Then he reached up and wrapped his paws around my neck, stuck his head under my chin and started purring like a little motorboat. That did it!
Since then I have trained him not to bite and he has begun to gain in size. He is a very sweet, loving and affectionate cat. He will roll over on his back anytime I get near him, wanting tummy rubs and to play. He has tons of energy and loves to play with the other cats. He is very vocal and makes some of the strangest, but cute, sounds I have ever heard from a cat.
Oh, and the other cat? She was adopted the next day so she is safe now in a home of her own.
My Big, Beautiful, Tuxie Baby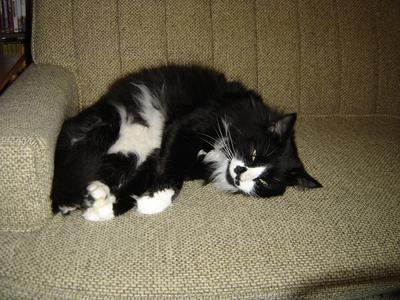 Robyn showing off her beautiful markings
I am not totally sure Robyn is a 'Coon even though she is huge (almost twenty pounds at three years). Physically, she has a lot of the characteristics that Maine Coons are known for, especially those feet!
I really did not intend to get another cat as I already had two at the time but fate stepped in and now I have this beautiful gal living with me and I love her to pieces. I found her in our local county's high kill facility quite by accident.
I was in there just looking at the many cats and spotted her. She was BIG, sitting with her feet and legs pulled tightly under her body, shaking and drooling like a baby.
I actually thought she was sick and didn't get too close to her. I went home and just could not get that face out of my mind. So, I hit the internet researching what I had seen. It turned out that Robyn was just totally terrified of what she was going through and where she was at! I went back the next day, hoping she was still alive, and asked for her.
They brought out this big, beautiful cat and after paying the fees and filling out all of the paperwork I immediately took her to my vet to be examined. This is where Robyn got her name. My Robyn was so sweet and so gentle that I immediately named her after my vet, Robyn, who is so kind and gentle with my two other cats (but that is another long story).
My Robyn had to stay at the vets for a week while her URI was treated and she was no longer contagious. Robyn, it turned out, was also mutilated (declawed) and found wandering on a busy highway.
She was picked up by the county and no one called to claim her. She was facing death as her time was running out. Adopting this big gal has been one of the best things I have ever done. She loves attention and being petted. She isn't too keen on a lot of lap time but she will jump up on my lap when she wants attention.
Unlike her younger "brother", also a rescued 'Coon, she is very quiet. She rarely ever makes a sound and her purr is so soft and quiet, I really don't know she's around. What makes me think she is a 'Coon are her features, size and her desire to be right close by me wherever I may be.