December 2011:
Our December Album is all wrapped up! It's first entry, Gizmo, has shared a very cool video of how he likes to fetch! There are many beautiful Maine Coon and Maine Coon mixes to see.
November 2011:
Enjoy browsing all these adorable cats and kittens!
October 2011:
Many beautiful cats joined our album in October. Come meet Diva Molly, Bentley, Rocco, Captain Hook, Marly, Fiona, Oscar, Candy, and many more!
September 2011: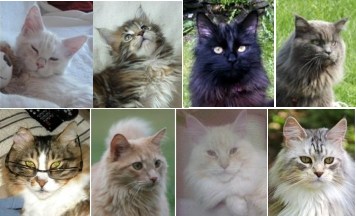 So many beautiful cats and kittens to see from September! Come meet Smokey, Chloe, Ceasar, Snickers, Mr. Sassee, Lily, Dexter, Duncan, Minnie, Balnca, Aggie, Eddie Spagetti, Marley, McMurphy, and more!
August 2011:
So many gorgeous Maine Coon cats and kittens to meet! Here, you can see Luca, MiMi, Saphira, Pippa, Gizmo, Scooter, JJ, Tilly, Onyx, Alfred, Suki, Peattie & more!
Summer 2011:
These pictures are from June and July of 2011. Many beautiful Maine Coon cats here!
Contests: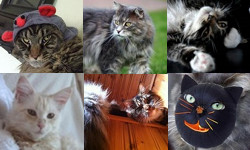 In 2010 and 2011, we held fun Fall Photo Contests. Here are the submissions!
2010: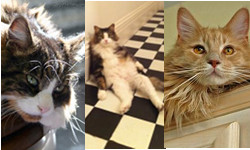 Our very first album, dating back to the launch of the site!